Multi-mission Mine Resistant Ambush Protected 4×4 wheeled platform
COMBATMATE, is an armoured monocoque hull vehicle based on Bruisertech's Bruiser 112. The Multi-Mission Mine Resistant Ambush Protected 4×4 wheeled platform features STANAG Level 1 (optional Level 2) ballistic protection, STANAG Level 3(a) and 3(b) landmine and improvised explosive devices (IEDs) protection, and STANAG Level 2 armored glass protection. The vehicle is capable of withstanding a side blast charge protection of 50 kg TNT equivalent at 5 m from the side of the vehicle. The vehicle is designed to execute long field or border patrols for up to a distance of 2000 km without refueling. The engine can run on Diesel or JP8 fuel alternative. The engine power and torque capacity enable the COMBATMATE vehicle to pull a vehicle of similar weight. COMBATMATE vehicle have excellent on-road and off-road mobility. Thanks to the overall size of the vehicle, it can drive on public roads and smaller city streets.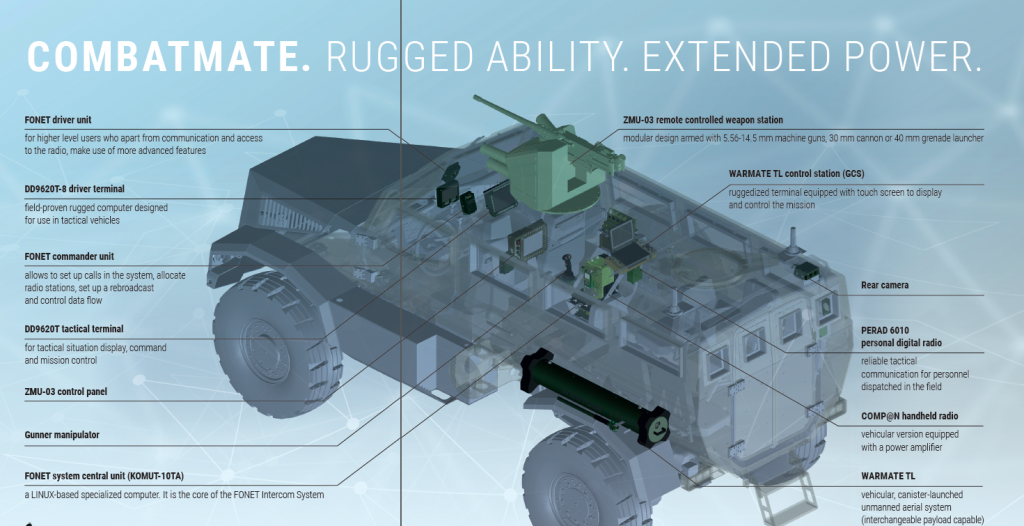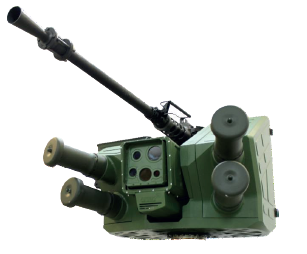 ZMU-03
Remote controlled weapon station 12,7 mm Light and compact, the ZMU-03 is operable from inside the vehicle by the gunner. The digitally controlled electric drive allows for both the precise guidance and high-speed gun movement. The guidance can be carried out by the operator using a joystick or automatically from the external FCS.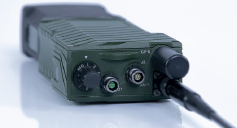 PERAD 6010
Digital personal radio Small, rugged radio characterized by a low power spectral density of the communication signal, frequency hopping and built-in encryption algorithms providing an effective barrier to prevent unauthorized signal detection and capture. Technology allows for unprecedented quality of the voice transmission and long operating time.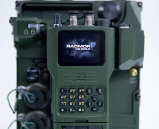 COMP@N Mobile SDR radio
COMP@N radio provides a comprehensive security in the range of TRANSEC, NETSEC and COMSEC mechanisms based on AES-256 algorithms and additional usage of SCIP technology (STANAG 5068). Mobile adapter is a device which enables the use of COMP@N handheld radio in vehicles.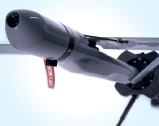 WARMATE TL Loitering munition system
WARMATE TL loitering munition system is a vehicular, canister-launching system is a combat UAV that provides a highly targeted strike capability with either an antipersonal or anti-tank warhead. The system enables a rapid deployment and the start of the mission immediately after launch.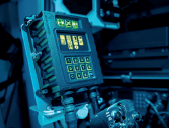 FONET Digital Communication
Platform FONET is a backbone that creates a unified voice and data exchange base between military vehicles on the multi-domain battlefield. FONET is a radio agnostic solution, ensuring a full integration with any radios available on the market.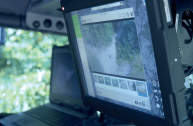 TOPAZ Integrated Combat Management System
TOPAZ Integrated Combat Management System is a fully integrated solution enhancing situational awareness, providing support in strategy, mission planning & preparation. The TOPAZ-ICMS solution facilitates an adaptive workflow drawing upon the core elements in battle: overwatch / observation, management / logistics and strike.